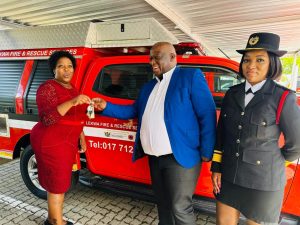 Lekwa Local Municipality Executive Mayor, Cllr. Louis Thabethe has received the state-of-the-art fire fighting vehicle from Mpumalanga Premier, Refilwe Mtshweni-Tsipane. The handover, which was also attended by MEC for Co-operative Governance and Traditional Affairs (COGTA), was held at Provincial Disaster Management Centre today.
Lekwa Local Municipality was chosen alongside other veld fire prone municipalities in the province.
The Provincial Government said in the statement: "Veld fires have potential to endanger human lives, livestock as well as natural vegetation. The fire-fighting vehicles will improve the capacity of municipalities to save lives through rapid response."
Accepting the vehicle, Executive Mayor Thabethe expressed heartfelt and deep-rooted gratitude on behalf of the people of Lekwa for the support and assisted the municipality has received. "We are excited that this is not about the shortcomings and not just support but support in action," he said.
"We are pleased with the donation that we have received…from the Premier and COGTA. Today's handover to us represents an end where Disaster Management Unit had been treated as stepchild of the municipality, because it is the most important service that the municipality delivers to community members.
"This has provoked us as the municipality to pay more attention to disaster management which is why in the next financial year, we will procure another fire fighting truck so as to ensure that we can respond better and adequately," said Executive Mayor Thabethe.
He said this financial year, they have been ensuring that the municipality has skilled firefighting personnel, and that Chief Fire Officer was appointed and eight firefighters' positions are in the recruitment stages, "so that we can have enough personnel and that be followed with required tools."
Lekwa Local Municipality will ensure the effective and efficient utilisation of the vehicle.
Lekwa LM Communications