In a quest to strengthen and improve service delivery to its communities, Lekwa Local Municipality has purchased a fleet of nine vehicles which was unveiled by the Executive Ma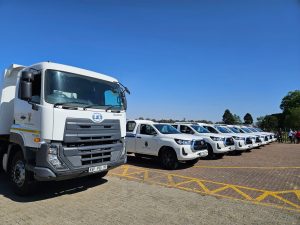 yor Cllr. Louis Thabethe, on Friday, 27 October 2023.
This is fulfilling the commitments the Executive Mayor made, that the municipality must improve the way it responds to calls of service delivery challenges.
"This is part our strategy to rebuild this municipality by ensuring that service delivery is improving, and this will assist us in responding better to service delivery challenges across all wards," said Executive Mayor Thabethe.
The fleet consists of seven bakkies that the municipality purchased, fire fighting vehicle that was donated by the provincial government last week as well as the tipper truck that was donated by the Department of Forestry, Fisheries, and the Environment.
The vehicles will be strategically allocated to service delivery sections such as Road Maintenance, Electricality, Engineering, Water and Sanitation, Mechanical Workshop, Revenue Enhancement, Fire and Rescue as well as Community Services and Safety.
The vehicles are expected to hit the ground running in alleviating illegal pumping sites, attending to water services, road maintenance, electrical infrastructure and responding to fire and rescue calls among other services.
He made a call to employees who will be assigned to these vehicles to take a good care of them and not abuse municipal assets.
"These vehicles are meant for nothing else, but service delivery and I appeal to all employees who will be using them that these are tools of trade, take a good care of them. I also urge residents to be jealous about their assets and report any form of abuse to the municipality," he concluded.
–End–